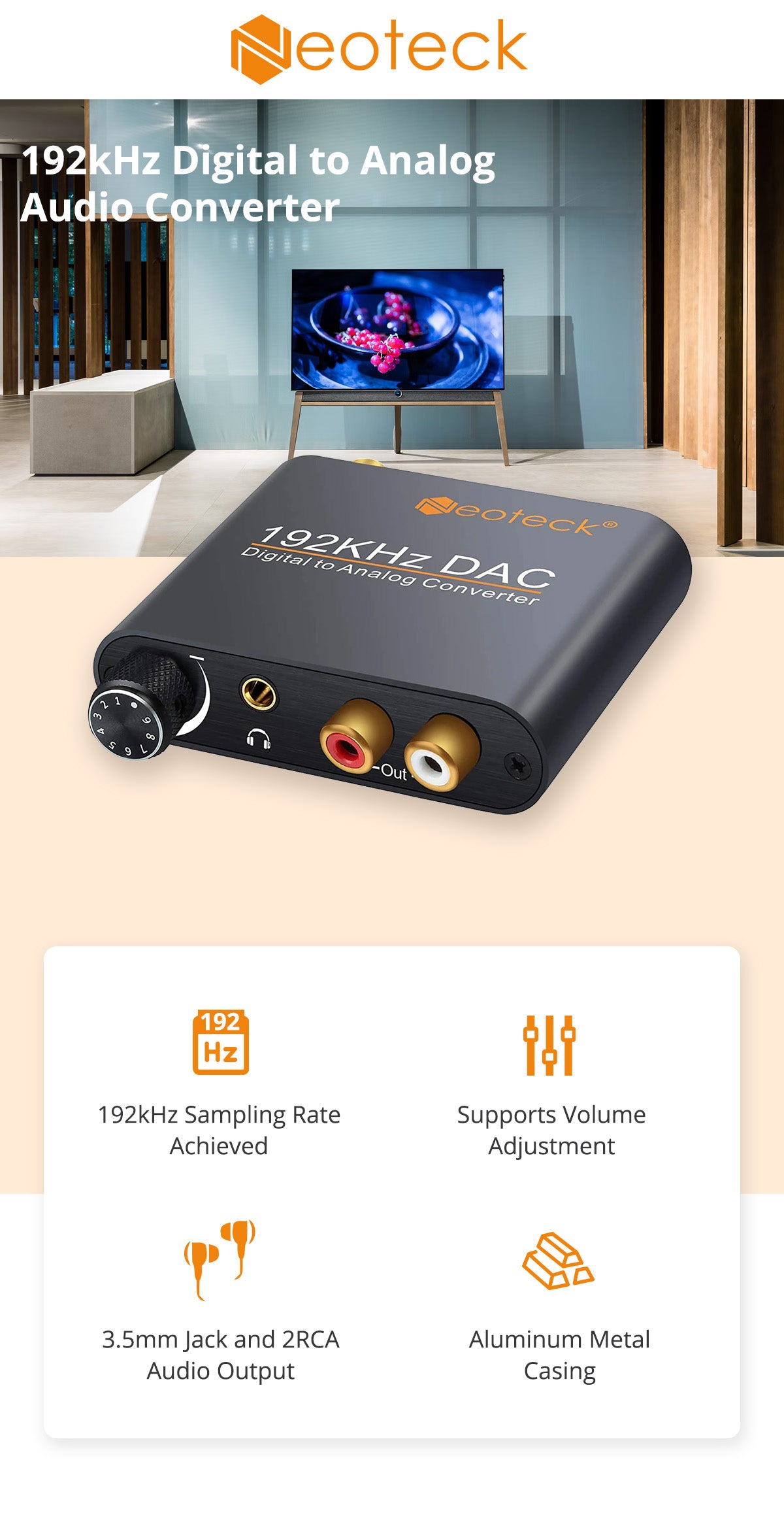 Please Note
It is Incompatible with 5.1 Channel Signal Such as Dolby AC3, Please Set the Audio Output to PCM or LPCM before Using
If you Connect the converter to your device (such as Samsung TV, LG TV, PS3, PS4 etc.), and it doesn't work, Please check the detailed troubleshooting in the user manual or following the Setting Path provided, it would work.
Device homepage--system setting--image and sound---voice setting--digital audio output--PCM/LPCM.
For Samsung TV, please turn on its external speakers: menu - sound - speaker settings - external speakers - on.
May Incompatible with Netflix, Youtube.
TIPS: There are various models DAC converters on the bottom of the listing
Specifications: 
Support Audio Format: PCM

Signal-to-Noise Ratio: 105DB

Separating Degree(1KHZ): 94DB

Response Frequency: 20Hz~20KHz -0.2db

THD+N: -90DB

Total Harmonic Distortion(THD): 10Hz~20KHz 0.25-0.065%

Blocking Time: 0.577Fs

Sampling Rate: 32~192 KHz

Bit Rate: 16~24 Bit

Output Impedance: 10 ohms

Working Voltage: +5V.Maximum Voltage:6V

Maximum Power Consumption: 100mA

Operating Temperature Range: -10-70℃

Storage Temperature Range: -60-150℃

Operating Humidity Range: 10% - 80%RH(No Condensation)

Storage Humidity Range: 5- 90%RH(No Condensation)

ESD Protection Human Body Model: ±8kV(Air-gap Discharge) ±4kV(Contact Discharge)

Product Shell: Aluminum Shell

Product Color: Black
Volume Adjustment
Good Anti-Interference Function Makes the Sound Pure and Clear, and There are Professional Audio Amplifier Chip and Volume Adjusting Switch, Allowing You to Drive Your Headphone Directly and Adjust the Output Volume; Besides, Noise can be Eliminated When Signal Input, and Automatically Mute While Non-audio Signal is Input
One Toslink and One Coaxial Input Interface
One RCA Output Interface
One 3.5mm Audio Output Interface
Eliminates the Noise when No Input Signal and Automatically Mute
Light weight and Compact, Perfectly Working with Any Playback Source with an Optical (TOSLINK) or Coaxial Digital Audio Output Such as Digital and HD Televisions, Satellite Receivers, CD/DVD/Blu-Ray Players and Game Consoles
Package Included:
1 x Digital to Analog Audio Converter
1 x Toslink Cable (Optical Cable)
1 x USB Power Cable
1 x User Manual