DC 12V Timer Switch, ideal for timing control of street lights, advertising lights, electric boxes, drainage pumps, garden lights, chargers, etc.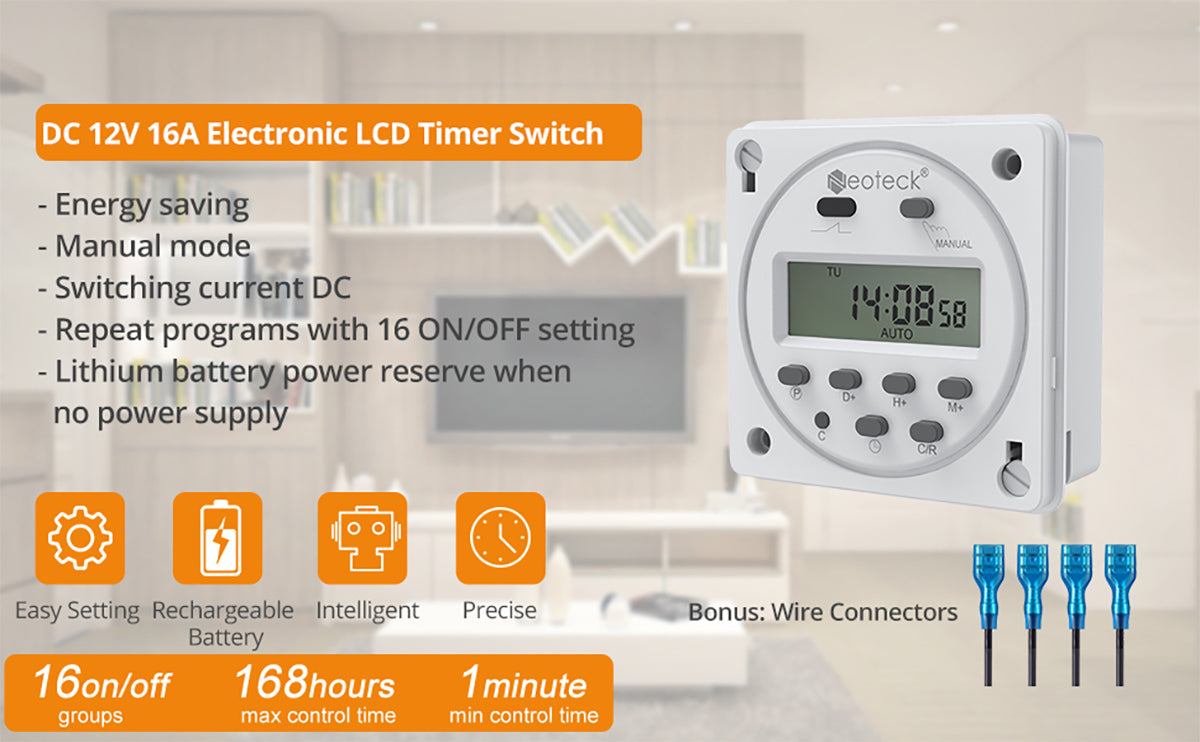 Please Pay Attention:
The "POWER" should connect to DC 12V power. Never connect any other power on. The other side can depend on your need
If want to connect 110V electrical equipment. Wiring is depending on "0-250V Wiring diagram"
No matter which Wiring diagram. The "POWER" only allow to connect DC 12V power
Power"~" is not meaningful, custom-made voltage is DC12V
Features:
Pannel mounted

Advanced pre-setting one week before

Digital electronic timer switch with daily programs

Repeat programs with 16 on/off setting and manual over-ride

Lithium battery power reserve when electric supply cut off

Auto timer error correction ±60sec, weekly

Switching dc current
Specification:
DC: 12V

Color: White

Cut out (MM): Φ64

Fitting Depths (mm): 21

Power consumption: 4.4VA

Current consumption without load: 0.015mA

Resistive Load (LVD .IEC) 16A /110 AC

Inductive load cos . 0.6 8A /110V AC

Incandescent lamp load 1000W

SWITCHING CURRENT DC: 16A DC

Operation accuracy: Type(+-)1 s/day

Ambient temperature: -10℃-55℃

Shortest switching time: 1 min

Number of memory spaces: 16

Type of connection: Plug in
Suitable for outdoor installation, no need to worry about water and dust
Can be embedded installation in the wall
Wiring design, safety and convenience