Please Pay Attention:
1. SET your TV's Audio Output to the PCM/LPCM Format.
2. This converter doesn't Support 5.1 Channel Such As Dolby and DTS.
3. PS4 Pro and PS4 Slim CANNOT use this converter as they haven't Optical fiber output interface.
4. For Samsung TV, if there is no sound even you set the audio output to the PCM/LPCM format, please turn ON the TV external speakers (Menus-Sounds- Speaker Setup- HESB/external speaker-ON)
Specification:
Optical Coaxial Support Audio Format: PCM
Signal-to-Noise Ratio: 105DB
Separating Degree(1 KHZ): 94DB
THD+N:-90DB
Total Harmonic Distortion(THD): 10Hz〜20KHz 0.25-0.065%
Blocking Time: 0.577FS
Sampling Rate: 32-192 KHz
Bit Rate: 16〜24 Bit
Input Electrical Level: ±0.3V
Output Electrical Level: 3V
Maximum Output Power: 0.3W
Earphone Output Power: 0-250mW
Output Impedance: 10 ohms
Working Voltage: +5V
Dimension: 4.54" x 2.45" x 0.76"
Weight: 180g
IR Remote Control
IR wireless remote control can easily adjust volume/ choose coaxial or toslink input/ Mute/ Power ON or OFF.
To receive signal better, please make sure the remote is facing the infrared IR indicator on the converter.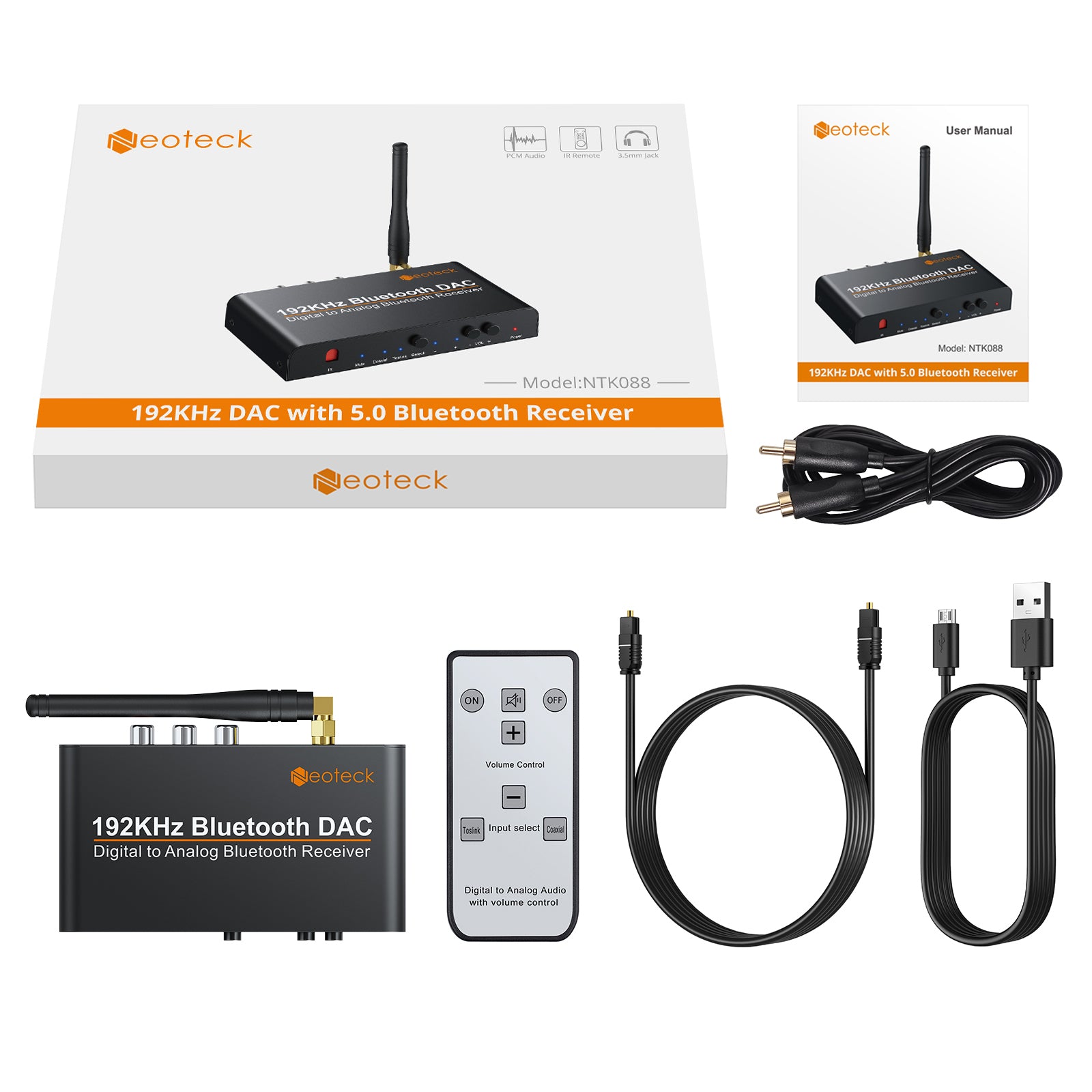 Package Content:
1 x 192kHz Bluetooth DAC Converter
1 x IR Remote Control
1 x 2m Toslink Cable
1 x 1m Coaxial Cable
1 x USB Cable
1 x User Manual