As the Original Design Manufacturer, Neoteck has years of experience in DAC CONVERTER development and production. We always adhere to innovation.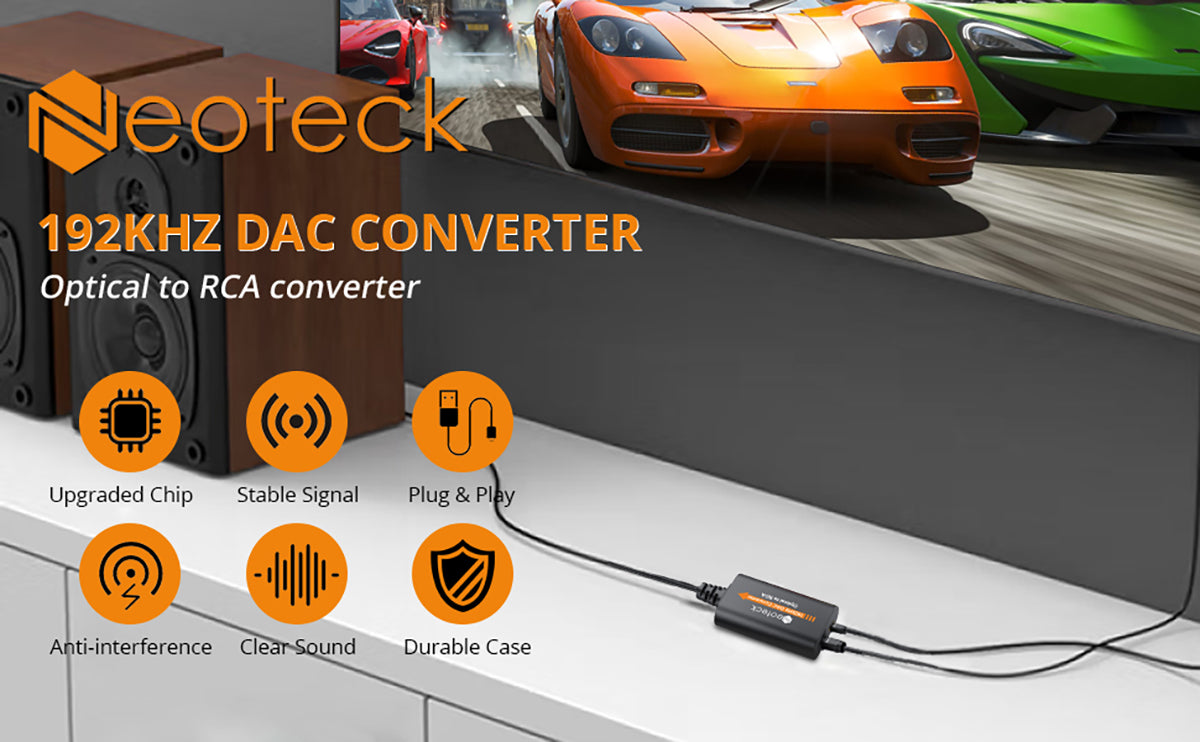 192kHz DAC Converter SPDIF to RCA Digital to Analog Audio Converter Optical Toslink to RCA Audio Adapter
Features:
1. One optical input interface to be connected to HD TV, DVD player and other devices.
2. One RCA output interface to be connected to the audio amplification device with RCA interface.
4. Eliminates the noise when no input signal and automatically mute when input non-audio signal.
5. Actually supports sampling rate at 192kHz 24bit.
6. Lightweight and compact.Good anti-interference function makes the sound pure and clear.


Specification:
| | |
| --- | --- |
| Support Audio Format: | PCM |
| Signal-to-Noise Ratio: | 105DB |
| Separating Degree (1KHZ): | 94DB |
| Response Frequency: | 20Hz~20KHz -0.2db |
| THD+N: | -90DB |
| Total Harmonic Distortion: | 10Hz~20KHz 0.25-0.065% |
| Blocking Time: | 0.577Fs |
| | |
| --- | --- |
| Sampling Rate: | 32~192 KHz |
| Bit Rate: | 16~24 Bit |
| Input Electrical Level: | ± 0.3 |
| Output Electrical Level: | 3V |
| Maximum Output Power: | 0.3W |
| Maximum Power Consumption: | 100mA |
| Maximum Voltage | 9V |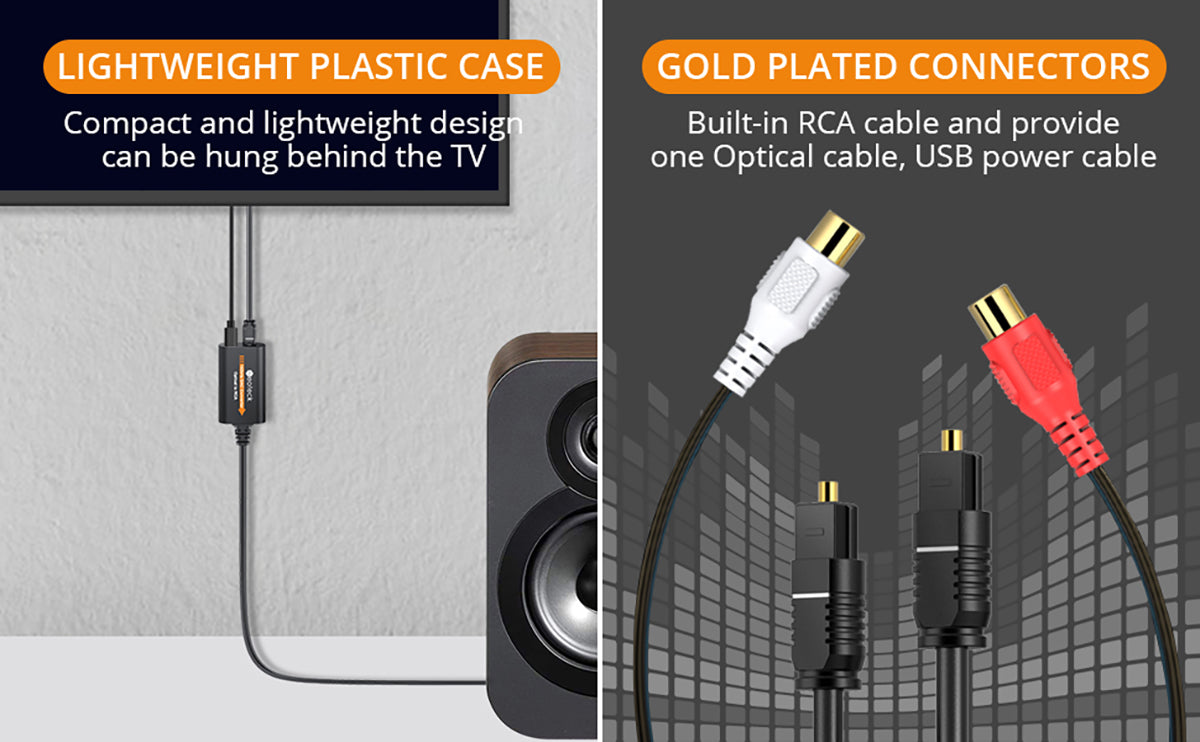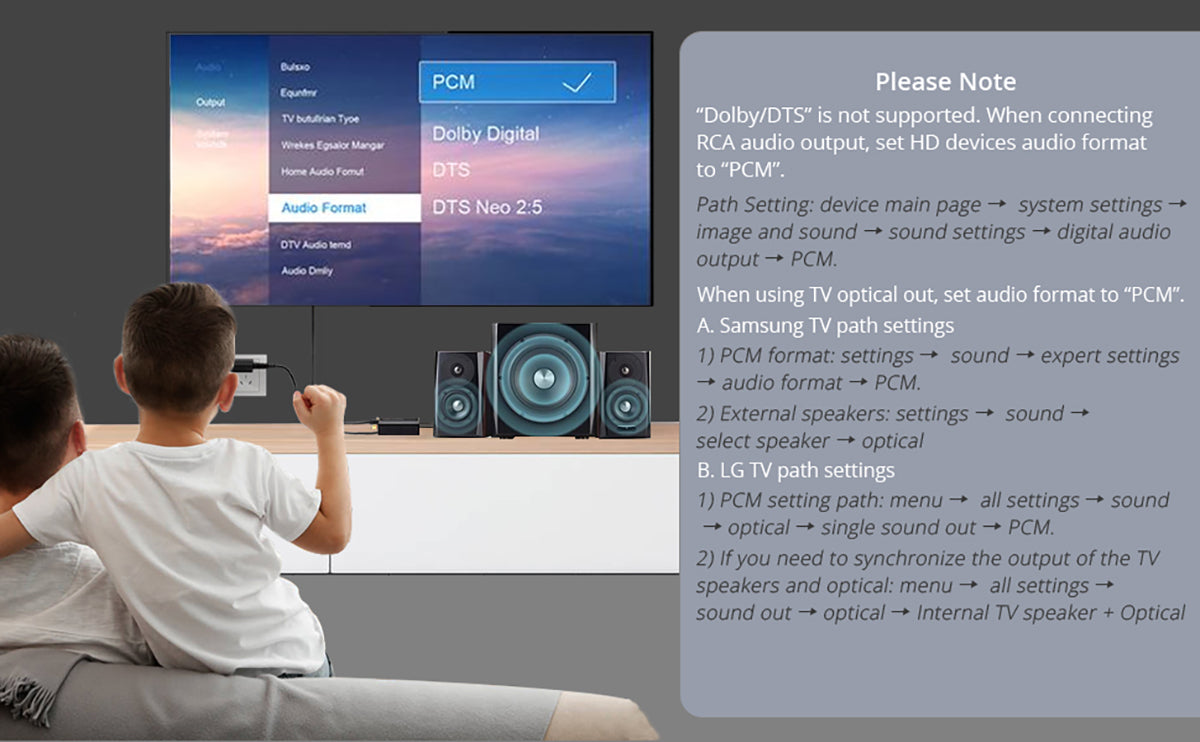 FAQ:
1. No sound?
Please kindly set your devices such as HD TV, TV BOX, or game console into PCM audio before using. NOT support DTS Dolby ac-3 and other 5.1ch digital audio.
PCM Setting Path: Device homepage → system setting → image and sound → sound setting → digital audio output → PCM
2. Noise?
1) Please use a separable 5V 1A power adapter to connect the USB cable to power the DAC.
Power supply: USB Power Cable -- Separable 5V 1A Standard Plug -- Power outlet.
2) Replace the RCA audio cable with a shielded cable.
3) Check if the RCA audio cable is fully connected.
3. Broken voice?
1) Check whether the optical cable pin let out the red light normally after it is connected to the input device (such as HDTV), and whether the optical connector is connected to the optical socket normally.
2) Try replacing a optical cable to connect.
4. Can't directly use the volume button of the TV remote control to adjust the output volume of Neoteck DAC?
The TV is connected to the sound system through the optical interface, so the volume button on the remote control cannot be directly used to adjust the output volume of the TV optical. (If the TV supports this feature which depends on the TV itself ) The TV optical output volume can be adjusted on the Settings of the TV system.
For example, one of SONY's TV setting path: Settings → sound Settings → advanced Settings → all → digital audio output volume.