NOTICE: In case the instrument would not be used for long time, remove the battery away from the instrument.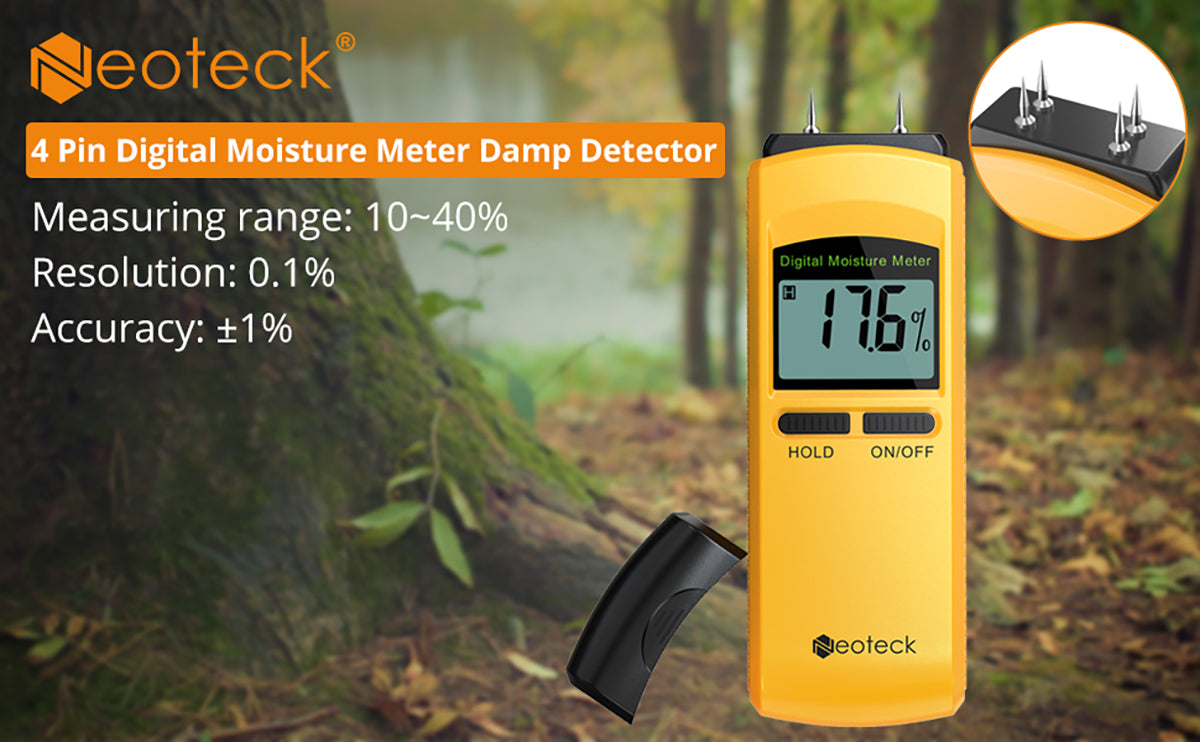 Neoteck Digital Moisture Meter
The Moisture Meter is with Accurate Measurements Displayed on a LCD Screen, is Ideal for Measuring the Moisture Content of Fire Wood, Plaster, Walls, Boats, Caravans, Timber, Bricks, Concrete, Sawdust, Wood Shavings and Other Materials.
Please Note Before Use:
Different regions have different dry humidity standards. It is recommended to check the dry humidity standards of your area before measuring
Technical parameters:
| | |
| --- | --- |
| Measuring range | 10~40% |
| Resolution | 0.1% |
| Accuracy | ±1% |
| Operating temperature | 0~40℃ |
| Storage temperature | -10~50℃ |
| Working moisture | 0-70%Rh |
| Power supply | 6F22 9V battery |
| Size and weight | 148x49x22mm, 66.8g(battery included) |
Operating manual:
1.Install the battery properly.
2.Remove the protective cover of probe, switch ON the instrument by pressing ON/OFF button
3.Pierce the probe pin into the measuring object by 5mm depth.
4.The value displayed in the screen is the moisture content of object.
5.By press the button "HOLD", it will hold the measured value. One more time to press"HOLD", the meter will release the "Hold" function
6.When the measurement is completed, switch OFF the power, put on the protectivecover on probe.
Package included:
1 x Digital Moisture Meter
1 x User munual
1 x 9V 6F22 Battery