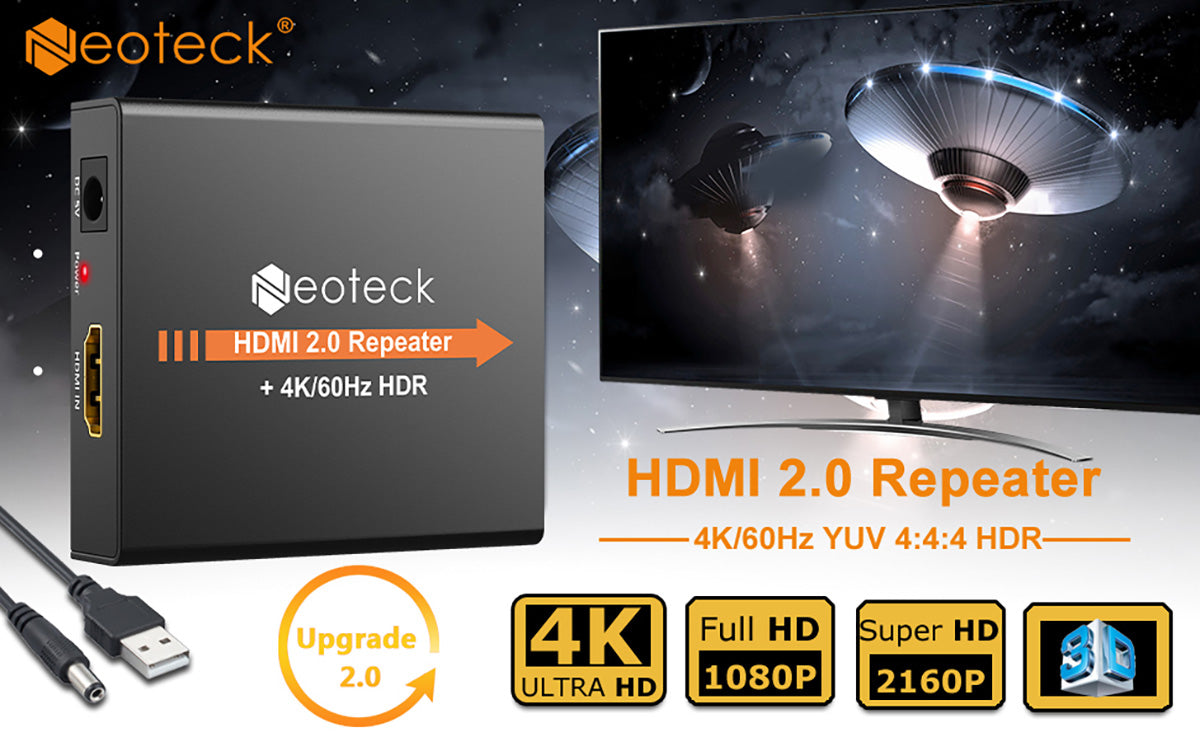 Neoteck HDMI 2.0 Repeater Support 4K 60Hz
This HDMI 2.0 repeater product is deal for data center control, information distribution, conference room presentation, school and corporate training environments, supporting HDCP 2.2, compatible with HDMI 2.0 version.
Special Notice:
1. This is an HDMI 2.0 Repeater, neither an HDMI Amplifier nor HDMI Splitter, ultra-high resolution up to 4K/2K @60Hz. It require high quality HDMI 2.0 24AWG cable. That's very important point.
2. After a long cable there is just no signal to transmit. By putting the repeater close to the source it has a good signal to work on. If the transmission distance is greater than 20m, and the repeater needs to be installed at half the distance.
3. Package includes a USB cable, adapter is not included. Please connect with DC 5V/1A adapter of your tablet or phone when using it, it will work more stable and better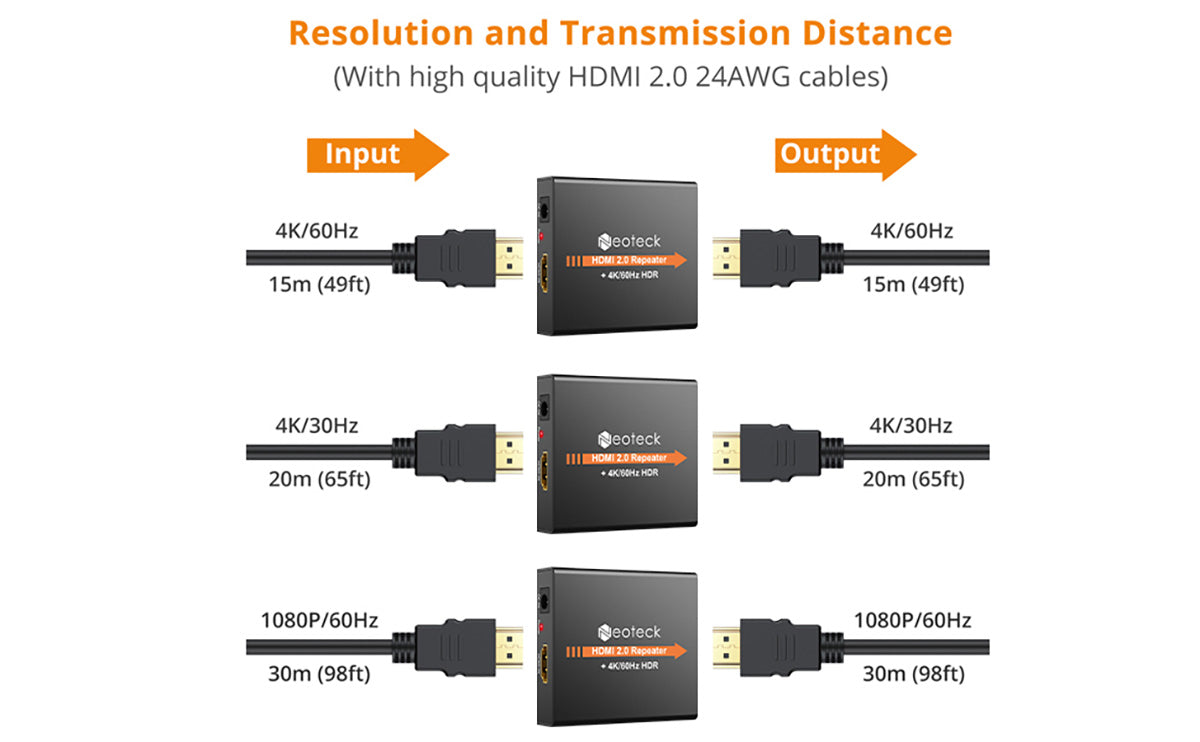 Please Use HDMI 2.0 24AWG Cable
If input resolution is 1080P/60Hz, input transmission distance should be 30m/98ft (Max), and output transmission distance is 30m/98ft (Max), 60m/196ft in total

If input resolution is 4K/30Hz, input transmission distance should be 20m/65ft (Max), and output transmission distance is 20m/65ft (Max), 40m/130ft in total

If input resolution is 4K/60Hz, input transmission distance should be 15m/49ft (Max), and output transmission distance is 15m/49ft (Max), 30m/98ft in total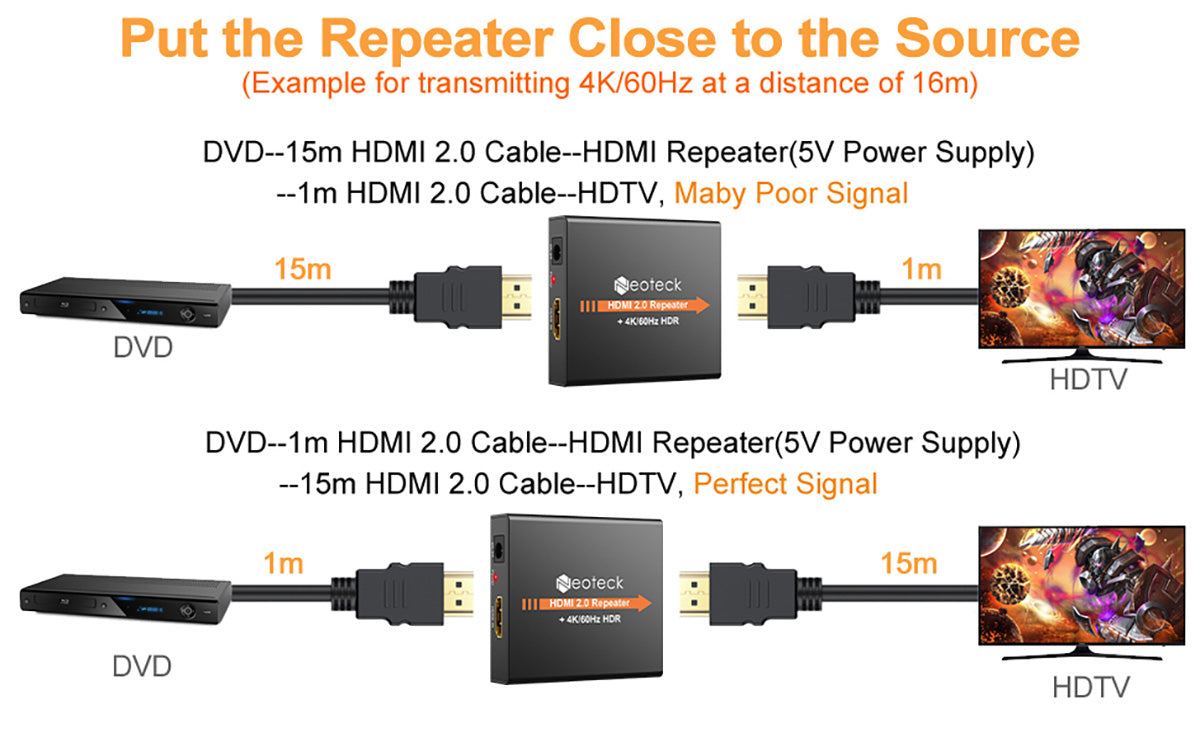 Connection and Operation:Put the Repeater close to the source
(Example for transmitting 4K/60Hz at a distance of 16m)
1. Maby Poor Signal: DVD -- 15m HDMI 2.0 Cable -- HDMI Repeater (5V Power Supply) -- 1m HDMI 2.0 Cable -- HDTV
2. Perfect Signal: DVD -- 1m HDMI 2.0 Cable -- HDMI Repeater (5V Power Supply) -- 15m HDMI 2.0 Cable -- HDTV
3. If the transmission distance is longer than 20m, the repeater needs to be installed at half of the distance
Specifications
| | |
| --- | --- |
| Maximum transmission width: | 300MHz |
| HDMI audio channels: | 32 channels |
| Maximum transmission speed: | 18Gbps |
| Input and output resolution: | Up to 4K/60FPS |
| Supports video color format: | 24-bit/ ark 30-bit/36-bit |
| Maximum operating current: | 300mA |
| Power adapter specifications: | AC100V-240V 50/60HZ, DC5V/1A |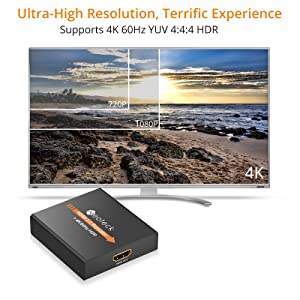 4K/2K @ 60 Hz YUV 4:4:4,HDR
2160P 3D 4K HDMI Signal Repeater Extend Signal HDTV 60 Meters Lossless Transmission. Serial data rate up to 6.0 Gbps, support ultra-high resolution 4K/2K @ 60 Hz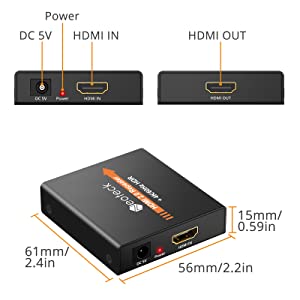 Portable Design
Size: about 53 x 45 x 19mm(L x W x H.)
Please connect with DC 5V/1A adapter of your tablet or phone when using it(adapter is not included)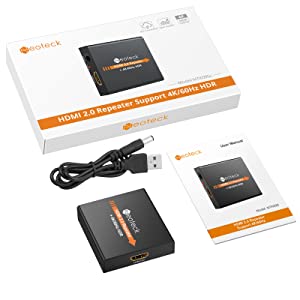 Package Contents:
1 x HDMI Repeater
1 x Mount and Accessory
1 x USB Cable
1 x User Manual