The 9999counts is a pocket-sized 3 9/10-bit automatic digital instrument. With stable performance, high precision, high reliability clear readings, and overload protection . With AAA 1.5V battery-driven, uses a large-screen LCD display, boost power supply, even in the 2.3V low battery edge, can keep the backlight high bright, the table is easy to carry, is a vast number of users extremely like the instrument, the backlight can be bright and can be automatically turned off after 15 seconds.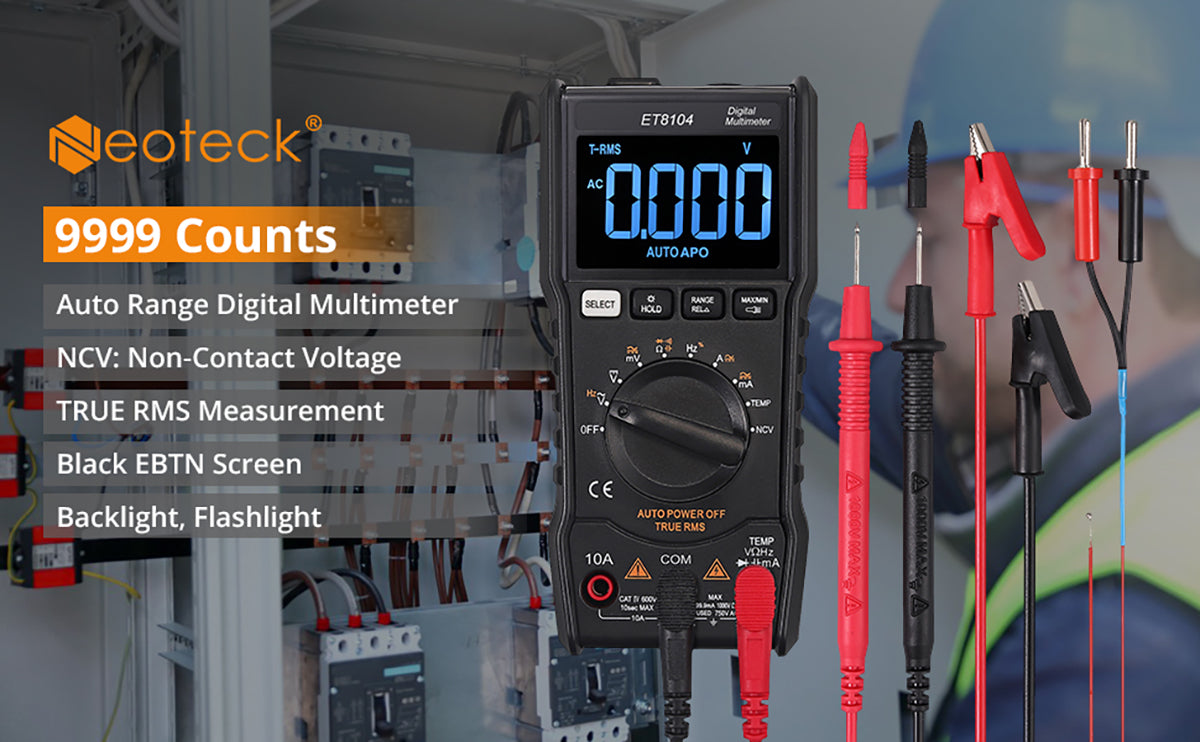 This series of instruments can be used to measure the DC voltage and AC voltage DC current and AC current、resistance、capacitance diode、continuity test, frequency measurement and true RMS measurement and other parameters. Is an ideal tool for the laboratory, factory, radio enthusiasts and families. Banana Plug to Alligator Clip Test Lead cables are frequently used in electrical or laboratory to quickly and cheaply assemble circuits. They are useful for connecting components to wires.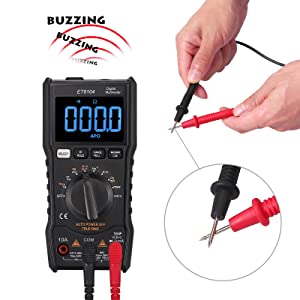 Wire Dia: 3.5mm/0.14"
Male Banana Plug Pin Dia: 4mm/0.16"
Alligator Clip Open Width(Max.): 9mm/0.75"
Banana Outer Size: 5.1 x 1cm/2" x 0.4"(L*D)
Alligator Clip Size: 2" x 0.8" x 0.31"(L*W*T)
Total Length: 80cm /2.62ft
Rated current: 15A
MAX Voltage: 1000V
Material: Metal, Plastic
Total Weight: 75g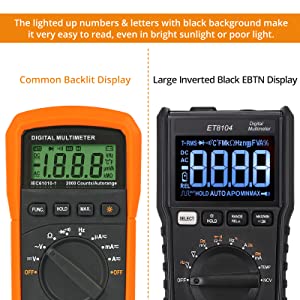 Display: Black EBTN screen
Maximum display: 9999 (3 9/10) bits automatic polarity display
Measurement: double integral A / D conversion
Sampling rate: about 3 times per second
Overrange display: the most significant bit was "0L"
Low voltage display: Yes
Working environment: (0~ 40)℃,relative humidity< 80%
Power supply: 2 x AAA 1.5V battery(included)
Volume (size): 142×70×32mm(L×W×H)
Package Includes:
1 x 9999 counts Digital Multimeter
1 x Test Leads (1 pair)
1 x Test Leads Banana Plug to Alligator Clip
1 x User's Manual
2 x 1.5V AAA battery (included)
Measurement:
DC Voltage Range and Accuracy: 999.9mV/9.999V/99.99V ±(0.5%+3); 999.9V ±(0.8%+10)

AC Voltage Range and Accuracy: 0.999V/9.999V/99.99V ±(0.8%+3); 999.9V ±(1.%+5)

DC Current Range and Accuracy: 100mA/10A ±(1.2%+10)

AC Current Range and Accuracy: 100mA/10A ±(1.2%+10)

Resistance Range and Accuracy: 999.9Ω/9.999kΩ/99.99kΩ/999.9kΩ/9.999MΩ ±(0.8%+3); 99.99MΩ ±(2.5%+3)

Capacitance Range and Accuracy: 9.999nF/99.99nF/999.9nF/9.999μF/99.99μF/999.9μF/9.999mF ±(3.5%+20) 99.99mF ±(5.0%+3)

Frequency Range and Accuracy: 9.999Hz/99.99Hz/999.9Hz/9.999kHz/99.99kHz/999.9kHz/9.999MHz ±(0.1%+3)

Temperature Range: -20℃-1000℃/-4℉-1832℉

AC Voltage Bandwidth: 40Hz - 1kHz

Diode test: √ (0.15V-3V)
Features:
Main measurements: DC/AC/Resistance/Continuity/Diode/Capacitance/Frequency/Temperature

Auto/Manual Range √

True RMS √

Continuity √

Data hold: √

Flashlight: √

Continuity: √

NCV: alarm beep sounds and LED blink if detect AC voltage

Continuity: alarm beep sounds if resistance less than 50Ω

Over load protection:√

Low Battery Indication: √

Auto Power Off: √

Short-circuit protection: √